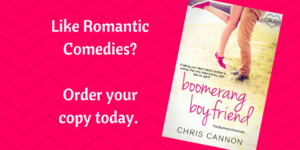 People have asked me why I write romantic comedies. It's simple. I like to make people laugh. I also like to give the books titles which indicate they are comedies. When people see the title Boomerang Boyfriend they should realize that it's not one of those books where the main character or the main character's love interest dies from some incurable illness in the last twenty pages.
I've read those books, and while a cathartic cry is nice every once in awhile I think there's enough to be sad about in the real world. I like to read and write books that provide an entertaining escape. My Boyfriend Chronicles books are meant to be read quickly while you drink a cup of coffee and eat a stack of Oreo's. I have no delusions that I'll win the Nobel Prize in Literature for my efforts. I do hope that I'll make someone's day a little brighter.
So if you're in the mood for some sweet snarky romance that will make you smile, check out Boomerang Boyfriend. Sign up for my newsletter for a chance to win a $20 Amazon Gift Card.